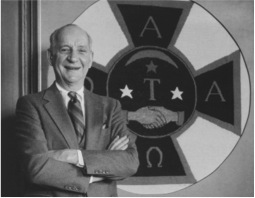 Bob Simonds '47 blood runs about as "blue and gold" as it gets and he needs our help.
Click on this link – http://www.alswalk4life.org/gammazeta, pull out your credit card and make a donation to ALS research in Bob's name.
Join Bob and his team at the 12th Annual Les Turner ALS Walk4Life at Soldier Field on September 22. (please email luhrsen@gartner.com if you can make it so we can order you a Bob Simonds Team T-Shirt and let you know where to meet).
Gamma Zeta alumni have already chipped in $10K. The Gamma Zeta undergrads raised nearly $11K. In total, Bob has raised an incredible $48K to date blowing away his original goal of $40K and leading all other teams participating in the Walk4Life for the second year in a row. THANKS!! to all of you who have already contributed. However, based upon this early success, Bob has raised the bar again to $60K. Let's all help Bob's team stay #1 and help put an end to this terrible disease.
Just a few more things to consider…
Bob Simonds has served ATO like no other…
Worthy Master of three different ATO chapters including Gamma Zeta
Worthy Grand Chief of ATO National
One of Gamma Zeta's top two largest life time donors
Mentor to literally thousands of ATOs/Gamma Zetas across the country for seven decades
If that doesn't inspire you to participate, think about this…
ALS has robbed Bob of the ability to walk, talk or eat on his own yet he has not stopped working, joking, writing email and inspiring his friends, family and ATO brothers across the country to donate money for ALS research. He has individually raised nearly $30K via one on one personal email notes that he pecks out one character at a time with one finger every single day.
Come on guys… let's push the Bob Simonds team over that $60K line!!!
See the following release from the Les Turner Foundation for more information about Bob.
Chicago Family to Serve as Family Chairs for 12th Annual Les Turner ALS Walk4Life at Soldier Field
Thousands expected to walk in honor and memory of loved ones affected by ALS (Lou Gehrig's disease)
Skokie, IL – September 4, 2013 – Bob Simonds, 89, of Chicago made his living as a public speaker and fundraiser. He understands the power of words, cherishes the nuances of language, and loves puns and palindromes. Diagnosed with ALS in 2009, today Bob's speech is incomprehensible and he communicates through an iPad that he manipulates with one finger. The disease also has robbed him of the ability to eat, compromised his breathing capacity, and left him wheelchair bound. Despite his declining physical condition, Bob's morale remains high and his humor is unwavering. He revels in the support of his large family, which includes six children, 15 grandchildren and one new great-grandson. Together, the Simonds clan will honor those affected by ALS as the Family Chairs for the 12th Annual Les Turner ALS Walk4Life on September 22 in Chicago.
The Simonds family, along with friends, relatives and some of Bob's Gamma Zeta ATO fraternity brothers, will join nearly 6,000 people at Soldier Field for the ALS Walk4Life. As one of the largest gatherings of the ALS community, the ALS Walk4Life is a celebration of hope, courage and caring. The event will be hosted by meteorologist Phil Schwarz of ABC7 and Kathy Hart of The Mix 101.9FM and will feature a 2 mile walk along Chicago's lakefront and through Soldier Field, as well as music, entertainment, food and children's activities.
Most people walk and fundraise in teams honoring the lives and legacies of their loved ones who have been affected by ALS. With a professional background in fundraising, the Simonds' team started fundraising early, identified their prospects, enlisted good workers and to date has raised more than $48,400 for the Les Turner ALS Foundation. Bob alone has raised nearly $33,000 and is continually the top fundraiser among the registered ALS Walk4Life participants.
"I enjoyed a long career as a fundraiser and always felt that I had found my calling. I'm happy to utilize my skills and knowledge to benefit the Les Turner ALS Foundation," said Bob. "Our family has a significant network of friends, relatives and professional contacts who have given generously to this cause. We are deeply grateful for their support."
In 2007, Bob fell while at home in his New York apartment. The fall resulted in a fractured cervical spine and a long period of hospitalization and rehabilitation. Initially, doctors believed the fall was an accident, but as Bob began to show a decline in mobility and strength, they recognized signs that Bob might have ALS. Officially diagnosed at Northwestern in Chicago in October of 2009, Bob's strength and independence have continued to decline; however his outlook on life is positive and his dedication to his role as Family Chair of the ALS Walk4Life is remarkable.
"The Simonds family has shown a deep commitment to the Foundation and an infectious passion for the ALS Walk4Life, which makes them ideal the Family Chairs for this year's event," explained Wendy Abrams, executive director of the Les Turner ALS Foundation. "We are amazed by the family's dedication and even moreso by Bob's enthusiasm and willingness to work hard toward making the event a success. We recognize he copes with the challenges of living with ALS each day and now he has added the responsibilities of Family Chair into the mix of his daily life."
ALS Walk4Life
In its 11-year history, the ALS Walk4Life has collectively raised nearly $8 million. Individuals are provided with fundraising tools to help them plan letter writing campaigns, host special events and secure support from local businesses.
Approximately 250 teams are expected to participate in the ALS Walk4Life; some teams are as large as 200 people, others as close knit as a few. The event draws people from throughout the country, all of whom have teamed up for the fight against ALS.
While there is no registration fee, the Les Turner ALS Foundation encourages participants to raise a minimum of $100, and those who reach or surpass this goal will receive an ALS Walk4Life T-shirt. Registration will open at 9:30 a.m. and ALS Walk4Life Opening Ceremony will begin at 10:40 a.m. The walk will start at 11:00 a.m. Participants are encouraged to pre-register at www.alswalk4life.org.
This year's ALS Walk4Life sponsors include: ABC7 Chicago, The MIX 101.9FM, Abt, American Chartered Bank, B&B Catering, Blick Art Materials, Comcast, Corner Bakery, The Private Bank, Stabil and US Foods.
ALS
Amyotrophic lateral sclerosis (ALS), commonly known as Lou Gehrig's disease, is a terminal neuromuscular disease that attacks a person's muscles, gradually robbing them of their ability to walk, speak, eat and breathe, yet usually keeping their mind intact. At any given time, approximately 35,000 people in the United States are living with ALS. Currently there is no cure.
Les Turner ALS Foundation
Founded in 1977, the Les Turner ALS Foundation is one of the nation's preeminent organizations dedicated to the treatment and elimination of amyotrophic lateral sclerosis (ALS). The Foundation is affiliated with Northwestern Medicine where it funds two research laboratories and a multi-disciplinary clinical program. The Foundation's patient services include, support group meetings, professional in-home consultation services, communications and durable medical equipment programs, respite care grants, and educational activities. The Foundation serves approximately 90 percent of the ALS population in the Chicago area.
For more information, call 847-679-3311 or visit www.lesturnerals.org.