About Matt Heldman 1998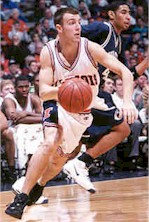 Matt Heldman, who graduated from Commerce in 1998 with a BS in business administration, achieved fame as a Fighting Illini basketball star. A point guard who wore the Number 21 jersey, he excelled at assists, free-throw percentages, and three-point scores and was instrumental in leading the Illini in 1998 to their first Big Ten title in fourteen years. The records for both the seventh- and eighth-best single-season totals for three-point shots in the university's history belong to Heldman, who was playfully called "Otis" by his teammates because he had his father's name tattooed on his arm.
At the time of his death, he had spent a year playing professional basketball in Finland and Greece, and had also toured with Athletes in Action, a Christian traveling team. While a student at Commerce, he also worked at the Chicago Board of Trade during summer intercession. The U of I men's basketball team gives the "Matto" award in honor of Matt at the end of the year to the player with the most MATTO points – "play-hard" statistics. These stats keep track of how hard and aggressive they are playing because of the way that Matt played.
Several of Matt's fraternity brothers founded the Matt Heldman Scholarship funded by proceeds from the annual Matt Heldman Golf Outing in his memory.
Criteria
The annual income of the Endowment, as determined by the Foundation's investment, scholarship and administrative fee policies then current, will be used to provide one scholarship annually to a junior or senior undergraduate member of the Gamma Zeta chapter of Alpha Tau Omega at the University of Illinois, Urbana-Champaign.
Scholarship awards will be based on the following qualifications:
Athletic Achievements (25%), as a non-scholarship varsity athlete or intramural athlete.
Academic Achievements (25%), with a minimum grade point average of 3.0 on a 4.0 scale.
Leadership (25%), as demonstrated through fraternity or extracurricular activities.
Extracurricular Activities (25%), including extensive involvement in multiple campus organizations.
The scholarship application deadline is announced in September each year and scholarships are awarded in a ceremony at Homecoming. Gamma Zeta Undergraduate Master Scholarship Application (note that you need only complete one application to be considered for all of the Gamma Zeta undergraduate scholarships which you are eligible)
Heldman Scholarship Winners
2001 – Mark Padjen
2002 – Michael Ronkoske
2003 – Michael Piper
2003 – Blake Ahitow
2006 – Joseph Daul, Jr.
2006 – Patrick Erfort
2007 – James Lyznicki
2007 – Andrew Selby
2008 – David Mejia
2009 – Matthew Dixon
2010 – Daniel Morgan
2012 – Rudy Fratto
2013 – Alex Schwartz
2015 – Michael Trapp
2015 – Mitchell Talbott
2016 – Austin Okuno