About Robert J. Simonds 1947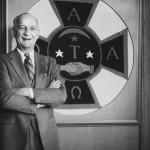 Bob Simonds was a Gamma Zeta '47. He has the unique distinction of being Worthy Master of three different ATO Chapters, Illinois, Ohio Wesleyan and Penn. He is also one of four Gamma Zetas who served as Worthy Grand Chief of ATO National. Though Bob was stricken with ALS late in his life, the fall before he died he served as Family Chair for the ALS Walk4Life in Chicago. His team has raised over $60,000 for ALS research with significant support from Gamma Zeta undergrads who raised over $11,000 and Gamma Zeta alumni who raised over $12,000.
Bob and his family established this scholarship in 1995.
Criteria
To be eligible, a candidate:
shall be an initiate of Gamma Zeta chapter of Alpha Tau Omega;
shall be a full time student at the University of Illinois during the academic year;
shall have attained a grade point average above the all men's GPA at the University of Illinois;
shall exhibit leadership responsibilities in the community and the school;
shall exhibit leadership responsibilities in the Gamma Zeta Chapter.
Note that there is a second R.J. Simonds Scholarship available to Gamma Zeta Leaders to fund the attendance at ATO National Leadershape training programs.
The scholarship application deadline is announced in September each year and scholarships are awarded in a ceremony at Homecoming. Gamma Zeta Undergraduate Master Scholarship Application (note that you need only complete one application to be considered for all of the Gamma Zeta undergraduate scholarships which you are eligible)
Simonds Scholarship Winners
1996 – Patrick Jensen
1998 – Wade Glisson
1998 – Jeffrey Piper
1998 – Jesse Lucco
1998 – Joseph Farinella
1999 – Jeffrey Piper
2000 – Ryan Gwillim
2000 – John Hughes
2001 – Timothy Derry
2002 – Evan Halkias
2002 – Michael Piper
2003 – Jeffrey Scolaro
2003 – Jeffrey Eversden
2004 – Jeffrey Eversden
2004 – Brendan Jonland
2005 – Matthew Brown
2006 – Zachary Carusona
2007 – Jeffrey Vranek
2008 – James Skuros
2009 – Mark Zhukovsky
2009 – Andrew Nicholas
2009 – Steven Kruzel
2010 – Daniel Passarella
2010 – Dale Jarosz
2010 – Steven Ogdon
2010 – Mark Lyznicki
2011 – Drew O'Neill
2011 – Rudy Fratto
2012 – Drew O'Neill
2013 – Robert Kleinhans
2013 – John Brosnan
2014 – Mitchel Talbot
2015 – Jack Karis
2016 – Christian Klos