We all know that our chapter house was named after Thomas Arkle Clark, Gamma Zeta initiate #1, Worthy Grand Chief of ATO National and the University of Illinois' first Dean of Men. But, did you also know that over 14 other buildings and landmarks on Campus have significant Gamma Zeta "roots".
Read through the following and you'll never look at the University of Illinois Campus the same!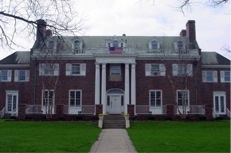 Thomas A. Clark Memorial Chapter House
Was named in honor of Thomas A. Clark 1890, Gamma Zeta initiate #1, Worthy Grand Chief of ATO National and University of Illinois first Dean of Men.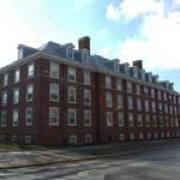 Clark Hall
Named after Thomas A. Clark 1890

Weston Hall
Weston Hall is named after Nathan A. Weston 1889, the first Dean of the College of Commerce and Business Administration, and an economics professor for nearly 30 years. He was a Charter member of Gamma Zeta and initiate #2. Weston Hall is part of the 6 Pack which was built by Kuhne Simmons. Gamma Zeta Elwyn L. Simmons 1920 was VP of Kuhne –Simmons Construction Co.; former director, U. of I. Alumni Association and served two terms as Worthy Master of Gamma Zeta. He was one of the driving forces that built the extension of the Gamma Zeta Chapter house in 1959.

Weston Fountain
Named after Nathan A. Weston 1889 donated by his daughter.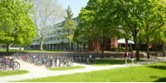 Scott Hall
Scott Hall is named after Franklin W. Scott '01. who developed the journalism curriculum at the University and served as a Professor of English from 1901 to 1925. He was Gamma Zeta Worthy Master in 1900/01 and later served as Editor in Chief of the Illini (Daily Illini), Chairman of Illini Publishing and Executive Secretary of ATO National. Scott Hall is part of the 6 Pack which was built by Kuhne Simmons – Elwyn L. Simmons 1920.

Adams Laboratory
Named after Gamma Zeta Roger Adams '18, organic chemist and Head of the University of Illinois Department of Chemistry and Chemical Engineering from 1926-to 1954.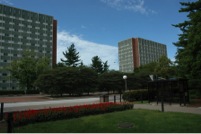 Florida Ave. Residence Halls
Built by Kuhne Simmons – Elwyn L. Simmons 1920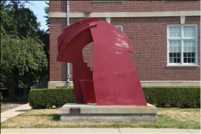 Night Train Sculpture
The sculpture, "Night Train," by Michael Dunbar was dedicated on September 5, 2002, at 9:00 a.m. It was given to the University of Illinois and the College of Fine and Applied Arts by ATO Brother Robert Vogele '48 (Graphic Design, '50) and his wife, Ruth ('49). The red sculpture stands at the corner of Taft Drive and Sixth Street.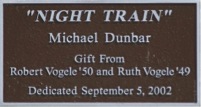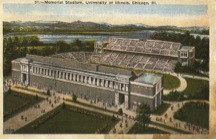 Memorial Stadium
Benjamin Harrison Bloebaum 1913 who lost his life in WWI is honored with his name on one of the pillars. Reuben G. Carlson 1921 was the chair of the Student Executive Committee which raised over $700,000 for the building of Memorial Stadium. His future wife Anne Cooley was the women's chair. They became known as Mr. and Mrs. Stadium. One of the luxury suite levels is named after the Barry family which includes Gamma Zetas William "BB" Barry '77, Bruce "Carp" Barry '79 and Daniel "Dog" Barry '83 for their longstanding support of the University of Illinois Athletic Association.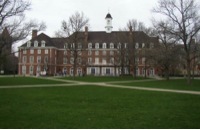 Illini Union
John H. "Jack" Powers 1917 was the first Chairman of the University of Illinois Foundation which was created to raise funds for the building of the Union.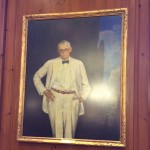 Pine Lounge
The Pine Lounge in the Union in the 1940's was a smoking lounge for men of the University to gather. Representative of this time, Thomas Arkle Clark 1890 can be found in portrait on the wall of the lounge. Dean Clark was the University's (as well as the Nation's) first Dean of Men. Today the Pine Lounge is used as study lounge for students and as well an exempt space for meetings held by the Illinois Student Senate and the Board of Trustees.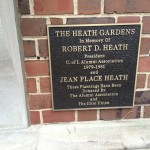 Heath Gardens
The northern entrance of the Illini Union is flanked by the Heath Gardens. The Gardens are a gift of the Alumni Association and the Illini Union, honoring Robert D. Heath 1950, who served as Alumni Association President from 1979 until 1981, along with his wife, Jean Place Heath.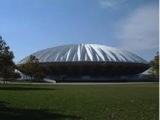 Assembly Hall – State Farm Center
Banners honoring All American Basketball Stars Walton "Walt" Kirk Jr. 1947 and B. William "Bill" Erickson 1950, Illini basketball stars hang in the Assembly Hall now called the State Farm Center. Peter K. "Raven" Korst 1975 was one of the founders of the Orange Krush which got its start in the Assembly Hall. William G. Small 1963 was the starting guard, Captain and Honorable Mention All American on the Illini Basketball team that inaugurated the Assembly Hall with a victory over Northwestern when the Assembly Hall opened its doors on March 4, 1963. In an exciting 79-73 victory over Northwestern before 16,137 fans to keep the Illini's Big Ten Title drive alive.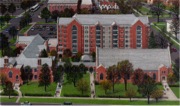 McKinley Foundation
There is a Dean (Thomas Arkle) Clark Room on the main floor in the McKinley Foundation building.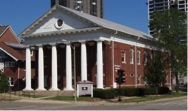 University Baptist Church
Brett H. Smith 1988 has been pastor if the University Baptist Church in Champaign since December of 2000, and the Baptist Housing Ministry's Director since February of 2007.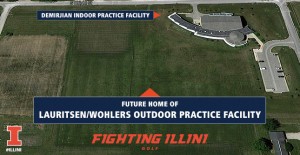 Illini Golf – Lauritsen/Wohlers Outdoor Practice Facility and J.G. Demirjian Indoor Golf Practice Facility
Mike Small '88 took over as Illinois' head men's golf coach and has led the Fighting Illini to be a perennial contender on the national scene. He's also inspired the development of some of the finest collegiate golf practice facilities in the country.