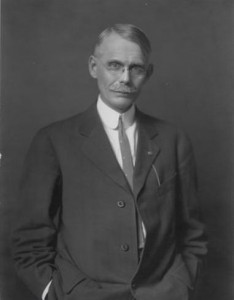 The Thomas Arkle Clark Memorial Scholarship is awarded by the Gamma Zeta Chapter of Alpha Tau Omega ("ATO") at the University of Illinois at Urbana-Champaign ("UIUC"). The deadline for submitting an application is June 26, 2015.
Thomas Arkle Clark was head of the University of Illinois, Department of Rhetoric in 1895, when he helped organize ATO's Gamma Zeta chapter and was its first initiate. Seven years later, he was named Dean of Men, the first in America to have that title. Unofficially, he won the title of Keeper of the University's Conscience through his insistence on high ethical and moral standards. He did likewise for ATO as Worthy Grand Chief, High Council member, Educational Advisor, and Brother. Brother Clark was nationally known in the early part of the century for his efforts in developing the modern Greek system.
The Thomas Arkle Clark Memorial Scholarship is annually awarded to outstanding high school senior males who have been accepted and are committed to attending UIUC in pursuit of a bachelor's degree beginning the fall semester immediately following high school graduation. It was established by the Gamma Zeta chapter as an incentive for up and coming students to seek excellence in scholarship, leadership, and service while pursuing and enhancing one's personal qualities of character, integrity, and responsibility during their stay at UIUC.
Three scholarships in the amount up to $1,000 each will be awarded to the most deserving applicants. All students meeting the eligibility requirements outlined above may apply.
Although membership in the fraternity is not required, those interested in joining the chapter are encouraged to participate in our new member rush process. By way of background, our fraternity was founded as a principled brotherhood for a lifetime. Our creed begins "To bind men together in a brotherhood based upon eternal and immutable principles, with a bond as strong as right itself and as lasting as humanity". The ATO brotherhood is a family and 1101 Pennsylvania Avenue is our home. On campus, we are leaders in the classroom, on the athletic field and in the community. As ATO alumni, we are parents, grandparents, coaches, teachers, CEOs, ministers, doctors, attorneys and community leaders. Here is a link to more information about our chapter at the University of Illinois.
As mentioned above, we welcome your interest in a lifelong, mutually beneficial membership. Should you have any questions as you complete the application, please don't hesitate to contact our representatives listed on the last page of the application. We wish you the best of luck in your future endeavors and we look forward to reviewing your application.