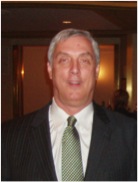 After careful consideration, your Gamma Zeta Board of Trustees voted to contract with Alpha Management to supplement our pure "landlord" duties for our chapter house at 1101 W. Pennsylvania Ave. Alpha Management was founded in Ann Arbor, Michigan and has been in business for over 20 years. They currently support over fifty fraternities and sororities across 16 different campuses including four other ATO chapters and five other fraternities at the University of Illinois. They will provide "hands and feet" on campus to allow us to address maintenance and cleaning issues quickly. They bring best practices and proven processes in order to hold our resident members accountable for maintaining our chapter house in a clean and safe manner, including weekly on-site inspections. We believe this will free alumni volunteers for more strategic initiatives and provide on-campus adult support and supervision to our undergraduate leaders. Board of Trustees Member Greg Scott '76, Director of House Corporation will oversee the transition and ongoing management of our relationship with Alpha Management. They have already begun this week in support of the move in process and we've heard great reviews from the undergrads.
In a parallel effort and working closely with Greg, Dave Krug '95, President of McHugh Homes, has agreed to Chair an alumni committee that will focus on the longer term capital improvement needs of the house. Dave's committee will carefully evaluate the basic mechanical systems of the house and make sure that we are planning appropriately long term for repairs and maintenance. They will also continually assess the competitiveness of our chapter house with other options that the students have on campus and help us plan so that we always have a top notch facility.
Please reach out directly to Greg (greg.e.scott@cbre.com) or Dave (davekrug1@yahoo.com) if you'd like to help out.