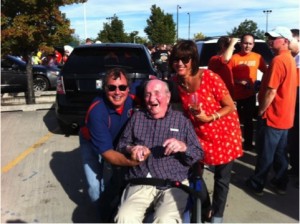 When the University of Illinois announced the football schedule for this fall that included a game in Chicago's Soldier Field between the Illini and the Washington Huskies, John Aymond '80 saw an opportunity. First, to get a bunch of Gamma Zeta's together in Chicago which is always fun and second to help Bob Simonds '47 raise money for ALS research. However, John didn't stop there. Through his involvement with the Greek Council Board of Advisors (basically an alumni advisory group of the IFC) he turned this into a giant Greek Reunion at Soldier Field to watch the Illini play Washington in football.
John will deflect credit to many others who supported his effort but be assured that he was the inspiration and driving force behind an extremely successful event. Just consider these facts:
Over 150 ATO's, friends and family purchased tickets through the ATO Gamma Zeta block for the game
This resulted in over $10,000 being raised to support Bob Simonds '47 ALS Research and his team in the ALS Walk4Life
Over 1200 tickets were sold in the Greek Block managed by John
This resulted in over $100,000 in ticket sales which benefited the University of Illinois Athletic Department.
Here's a quick story that Mike "Cone" Barrett '80 passed on about the event: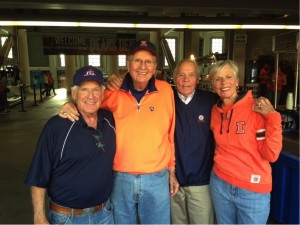 "BTW, a great day at Soldier Field despite the loss and it was made even better when Bob (Simonds) showed up to our tailgate with his grandson to greet and thank the Taus and their guests for the support. Bob blew me away when he told my wife, Holly and I that he knew Holly's dad, Hod Henderson, who was a Gamma Zeta with him in the late 40's. He even said that Hod had dated his wife, a Gamma Phi, a couple times as all were good friends back in the day! He even remembered that Hod had met and married Patricia Scott who was a Theta. While Bob can't talk and points out letters on a board to communicate, he sure is sharp as a tack at 89 years young. My mother-in-law was thrilled with the story and said she remembers that Bob Simonds was "Mr. ATO", always loyal and the guy that kept in touch with everyone over these many years. I'm sure there are hundreds of stories like this about Bob."
Great work John and THANKS for all of your hard work in pulling this together. Thanks also to Mike Barrett '80, Dan Touhy '80 and Barry Booth '80 for hosting the tailgate. RUH! RAH! REGA! to our '54's who came in for the game, Bill McCarty, Ed Ptacek, Brig Young, Jack Young and Waldo Peterson… Ed all of the way from southern California and Brig from Colorado. Also heard that Rich Orr '81 and Frank Maxwell '84 came in from California, Mike "Peaches" Perkins '74 from Pennsylvania, Jiggs Lamb '75 from Ohio and Dave Lundstedt '75 from Connecticut attended. And of course Bob Simonds '47 paid a visit to thank everyone for their support. Great seeing you guys!!
One final thanks to Bob Cavoto '75, Dave Seiler '77, Bill Barry, '77, John Aymond '80, Cary McMillan '80 and Barry Booth '80 who got this all started back in April with generous donations that seeded this entir event.
Picture above is Mike and Holly Barrett with Bob Simonds.
Picture below is Brig Young '54, Bill McCarty '54, Waldo Peterson '54 and Carol McCarty