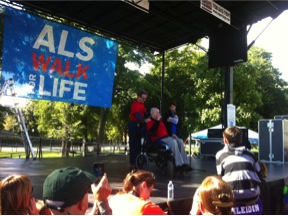 ALS has put Bob Simonds '43 in a wheelchair unable to walk, talk or eat on his own but he didn't let that stop him from achieving an incredible goal of raising over $60,000 for ALS research this year. Bob initially set a "stretch" goal of $50,000 which was significantly higher than last year's achievement. However, with strong contributions of over $11,000 from Gamma Zeta undergraduates and their Mom's Day fund raiser last spring and over $11,000 from Gamma Zeta Alumni from the program initiated by John Aymond '80 at the Illini vs. Washington football game at Soldier Field in September, he raised the bar again to $60,000. Andy Daniels, ATO Tulane '75 (our own Stu Daniel's son and grandson) agreed to pitch in another $1000 to put Bob over the top if he could get to $59,000.
All of the fund raising efforts were set to culminate on September 22 with the 2013 ALS Walk4Life which was held at Soldier Field in Chicago. Bob's team was the top team and Bob was the number one individual fund raiser at the time of the walk. Most people would have celebrated and gone home happy but Bob wasn't satisfied. He was still about $5,000 short of his new goal of $60,000. He got right back to it the Monday after the walk and continued to peck out his email notes requesting support from his friends, family, ATO's and former work colleagues. Bob turned over every rock and kept at it with incredible persistence and a never say die attitude… every single day.
On Monday, October 28, Bob's dedication paid off. He raised his total to $59,000 and Andy Daniels came through as promised with the last $1,000 to put him over the top. Congratulations to Bob and thanks to all who contributed to this worthy cause.
Below RJ Simonds delivers Bob Simond's remarks prior to the start of the 2013 ALS Walk4 in Chicago on September 22