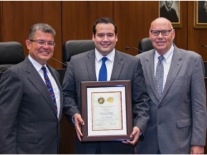 Jeff Scolaro '04.5 of Daley Mohan Groble received an award at the United States District Court for the Northern District of Illinois' Fifteenth Annual Award Ceremony for Excellence in Pro Bono and Public Interest Service. He represented, through the Federal Settlement Assistance Program, a client who initially sued her union for failing to represent her after she was terminated by her employer.
Jeff amended the complaint to file a Breach of Duty of Fair Representation under the LMRA against the Union and a breach of the collective bargaining agreement against her employer security company. Judge James F. Holderman presented the award and noted that Jeff's work in obtaining video as key to leading to the settlement. The employer security company hired her back as part of the settlement and the Union agreed to reinstate her with full benefits and seniority.
"We are proud of Jeff and his pro-bono work", noted Dan Mohan, Managing Partner at Daley Mohan Groble. "The District Court's pro bono program provides quality legal representation for those who cannot afford to hire a law firm, and at the same time, gives our attorneys valuable trial experience before the judges of our District, so it's a positive experience for everybody. We plan to continue to participate in the program going forward."
Jeff is serving ATO Gamma Zeta as VP of Membership.