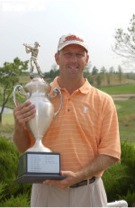 Coach Mike Small and the University of Illinois men's golf team each earned an end-of-the-year honor from the UI Division of Intercollegiate Athletics on Wednesday.
The squad is the 2013-14 Team of the Year, while Small is the 2013-14 Coach of the Year after a vote by UI head coaches and athletic administrators. It is the first year for both awards.
The Illini earned their seventh consecutive berth in the NCAA tournament last month, the longest streak for a Northern school. The team finished fifth overall. Small has been with the program for 14 seasons and has led the squad to the national tournament nine times in 13 years.