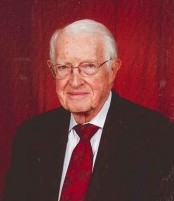 Just heard the sad news that C. Donald Ainsworth who initiated ATO Gamma Zeta in 1939 passed away this morning. Don was a great guy and a loyal and active ATO for his whole life.
I have two favorite lines from Don.  The first was when I asked him about his college time at ATO and he said that he "majored in intramurals".  He and his brother, Dean Olson were the instigators for getting ATO going in intramurals during those days and I know that Don was very proud of a plaque that he still had listing him near the top of the all campus intramural individual standings.  After a long and successful career with the FBI, building an insurance business and serving as Insurance Commissioner for the State of Missouri, the thing that really brought a sparkle to his eye was talking about ATO intramurals.
The second occurred when we presented his Diamond Circle Certificate at a luncheon in St. Louis in May 2014 signifying his incredible 75 years of membership in the fraternity.  His response… "What comes after Diamond?"  Well… Don knows now and I expect that it's pretty good.
There will be visitation on Saturday or Sunday at Popp Chapel in Kirkwood, MO from 4-8 pm and I'll publish details as soon as they are announced. Here are links to a couple of items that we published about Don – https://atoillinois.com/don-ainsworth-42/ and https://atoillinois.com/don-ainsworth-39-diamond-circle-certificate-presentation-may-14/