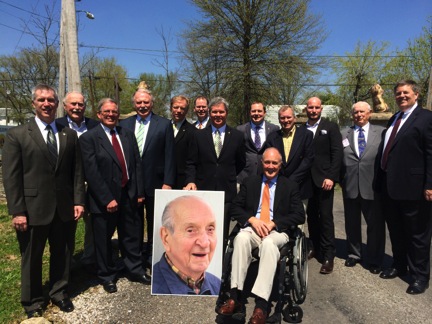 Bob passed away last December but his family chose to wait to hold a Memorial Service until they could get all of his ATO brothers, family and friends together in Bob's hometown of Sparta, IL on April 19 to celebrate his life.
It was a beautiful service and it was clear that Bob had touched many people throughout his long and productive live. His love and respect for ATO was clear through the comments of his family and Wynn Smiley, ATO CEO who spoke at the service and it was obviously mutual.
Wynn Smiley, ATO CEO, Jeff Busch, ATO Worthy Grand Chief, Terry Turman, ATO Foundation CEO were all in attendance along with Gamma Zeta's Gary Kortkamp '59, Mike Houlihan '73, Mike Ronkoske '04, John Carlson '47 and Dane Luhrsen '77.