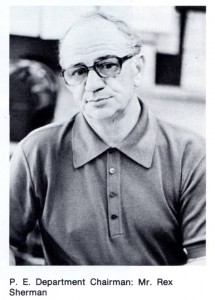 I'm sorry to pass on the sad news that one of our Diamond Circle Members, Rex Sherman '39 just passed away. – Link to obituary and here's a link to a profile that we did on Rex last year when we presented him with his DIamond Circle Certificate.
PEKIN – Rex Gordon Sherman, 94, of Pekin passed away peacefully at 2:27 p.m. Friday, Dec. 19, 2014, at Pekin Manor.
Born Aug. 13, 1920, in Pekin to Ira Bishop and Katherine Francis (Genochio) Sherman, he married Emilie Cullen on Dec. 21, 1943, in Pekin. She died on Jan. 22, 2011, in Pekin.
He also was preceded in death by his parents and his siblings, Maxine Benscoter, Doris VonDerHeide and Paul Sherman.
Surviving are several loving nieces and nephews, including Terry (Loretta) Jackson, Bobbi Prather, William (Barb) Cullen, Penny (Jim) Scherer, Paula (Wally) Welch and James Connor; many great-nieces and nephews; and several great-great-nieces and nephews.
Rex was a 1938 graduate of Pekin Community High School and was a talented athlete in football, basketball and tennis. Rex received a full athletic scholarship in basketball and graduated from the University of Illinois in 1938. He was a member of the Alpha Tau Omega Fraternity at U of I and recently received the membership in the Diamond Circle in appreciation of his 75 years with ATO.
Rex was a decorated sergeant in the U.S. Army serving in World War II in New Guinea in the Southwest Pacific. He served under General Douglas MacArthur and was awarded the Bronze Star, among several other high level recognitions. He rarely talked of his time in WWII, where he lost many friends, but those who knew Rex understood they were in the presence of one of our great American heroes.
Rex was a teacher and coach in Bradford. He served as athletic director and taught history at Wheaton Community High School. His coaching career at Wheaton Central covered various sports, including football, basketball and golf. Rex received many accolades in his coaching career, but none meant more to him than that of the infinite praise and gratitude he received from his many students.
Rex and Emilie moved to Vero Beach, Florida, in the early 1970s, where he accepted a position working for his friend, Lynn Velde, at Velde Ford, Inc. Rex and Emilie made Vero Beach their home for 33 years.
He was an avid golfer, with a 5 handicap, and proudly displayed his certificates for his four holes-in-one.
Rex was a Christian.
A memorial service celebrating his life will be held at 11 a.m. today, Dec. 23, 2014, in the Community Room at Pekin Estates, 1540 El Camino Drive. The Rev. Judy Doyle will officiate and a flag folding ceremony will be provided by the United States Army. Private burial will be in Lakeside Cemetery in Pekin.
Preston-Hanley Funeral Homes & Crematory in Pekin is assisting the family with arrangements.
The family would like to offer many thanks to his wonderful caregivers, who became dear friends, at Pekin Manor.
In lieu of flowers, memorials may be made to a
. – See more at: http://www.legacy.com/obituaries/pjstar/obituary.aspx?n=rex-sherman&pid=173554420&fhid=2873&eid=sp_ommatch#sthash.i6pXmjUz.dpuf