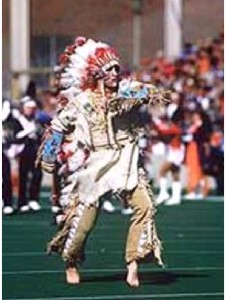 The Former Chief Illiniwek
The days of exhibiting his Illini pride as the infamous mascot are long gone, but the memories and friendships created by Brother "Biff" Forsyth '83 in the halls of ATO in the early '80s are stronger than ever. We caught up with him and asked him to relive those days. We hope you enjoy this alumni profile.
Why did you join ATO?
I joined ATO because of camaraderie and commonality I experienced when I visited the Gamma Zeta Chapter during fraternity rush. The fraternity brothers took great pride both in the physical plant and the esprit de corps of the members, and that made a lasting impression on me.
Tell us about your favorite memory of the fraternity.
My favorite memory of the fraternity was the general buzz and activity of the house during the course of the average evening. Walking into the fraternity around 10:00 p.m. on a weeknight, the activities ranged from intensive studying in certain rooms to casual conversations in others. Some fraternity brothers were on their way out to a late night of studying while others were headed out to the bars for last call. ATO seemed like a virtual microcosm of university life.
What kind of influence has the fraternity had on your life since graduation?
The greatest influence the fraternity has had on my life since graduation has been in the numerous lasting friendships maintained in the years following graduation. Some of the people I respect the most remain my closest friends, and I would likely not have known them but for ATO.
With whom do you still stay in contact? Who would you most like to find?
I stay in contact from time to time with a number of people, including Steve Norgaard '85, John Compall '83, Tom Casey '83, Doug Altenberger '83, Pete Lantero '81, Nick Roder '85, Matt Manzella '85, Paul Casey '85, Mike Casteel '84 and Dan Thompson '85. I think I'd most like to get together again with Roger Brown '85, who's a dentist in Colorado; we had a lot of great times in college, and it would be fun to catch up.
Tell us about your family: Have you married? Do you have children?
I married the former Martha Goldrick in 1988; we now have four children (Will, 11; John, 10; Mary Therese, 8; and Andrew, 3)
What other activities or organizations were you involved with during your college days?
I was involved in several activities in college, but the one that was most time-consuming was portraying Chief Illiniwek. Other organizations in which I participated included Interfraternity Council, Student Alumni Association, Student Ambassadors, Mortar Board, Big Brother and Special Olympics.
What is your nickname, if applicable, and how did you get it?
My nickname growing up and in college was "Biff," which was a nickname given to me by my parents so as to distinguish between me and my dad, who goes by "Bill."
Did you live in the house?
I lived in the house for all four years with a wide variety of roommates. My first roommate was Pete "Noe" Lantero, and subsequent roommates included Ed Conlon '81, Doug Altenberger, Andy Smith '83 and Steve Norgaard. The most memorable time I had with roommates was sitting in the room and playing backgammon while talking about a wide variety of issues, from academics to sports to personal lives. While the backgammon game itself seemed important at the time, in retrospect it was unimportant relative to the experience of getting to really know other people.
What do you do for a living?
I currently own a company that is involved in the business of institutional investment management. We help money management firms attract and retain business from a wide range of pension funds, endowments and foundations in the U.S., Australia and Europe. In conjunction with this business, we established a mutual fund company that provides top-flight investment options to smaller organizations across the country.
What affiliations do you currently have and/or public service do you participate in?
I am involved in a number of charitable organizations, including one that I established at my company, the New Frontiers Foundation. This foundation targets underprivileged Chicago-area youth and provides them with educational and social opportunities that serve as the springboard for their emergence as capable and productive adults. I also serve on the advisory board of a Chicago-based charity, Mobile C.A.R.E., which treats children afflicted with asthma but who have no means to seek professional treatment. Finally, Martha and I co-chair our parish sharing committee, which spearheads the outreach to a number of inner-city parishes and food pantries.
What hobbies do you enjoy?
While I enjoy numerous hobbies, from golf to fishing, time for outside activities is at a minimum these days given the various sporting functions and interests of our children.
What are your goals for the next few years?
My goals for the next few years include allowing sufficient time to watch my children grow up while trying to maintain and grow my business and maintaining close contact with friends. My first priority is being there for my family, but friends have always been and will continue to be extremely important to me and my family.
Brothers Forsyth can be reached at bforsyth@frontier-partners.com.