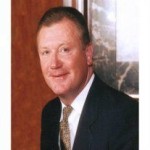 Robert E. Duginger (Bob) passed away unexpectedly on the morning April 6, 2013, at the age of 60. Bob is survived by his wife, Kathy, and their children, Robbie, Stephen, Emily and John of Irvine. He is also survived by his sister, Mimi Duginger of Chicago. He was preceded in death by his parents, Mary Dehner Duginger and Lynn Charles Duginger.
Bob was born on March 20, 1953, in Lincoln, Illinois. He grew up in Middletown, Illinois, and graduated from New Holland-Middletown High School. He graduated with a degree in accounting from the University of Illinois where he was a member of Alpha Tau Omega fraternity. He received his Juris Doctor degree from the John Marshall Law School in Chicago in 1978.
He practiced civil litigation defense in Chicago before moving to San Francisco where he represented Travelers Insurance Corporation. Bob and his family moved to Irvine in 1998 where he continued to work in the insurance field including his most recent job as Associate General Counsel at Alta Holdings in Irvine.
Bob was an avid sports enthusiast who cheered on his favorite teams from the Midwest; the St. Louis Cardinals, the Chicago Bears and the Chicago Bulls. On the collegiate level he showed his undying support for his alma mater's team, the Fighting Illini. In his free time he also enjoyed fishing, golf and tennis. When his children decided to take up soccer he learned the rules and regulations of the sport so that he could become a volunteer referee in their league.
Bob was an active member of St. Thomas More Church in Irvine where he served for many years as an usher and coordinator of the altar server program. He was also a Fourth Degree Knight and past Grand Knight of the Knights of Columbus. In 2012 Bob and Kathy were invested in the Equestrian Order of the Holy Sepulchre.
Bob's greatest accomplishment was his family. He was a devoted husband and father, and family always came first. His loyalty and strength of character led to strong friendships that lasted his entire life. He always dreamed of retiring to a house on a lake where he could fish every day, but now he has retired to a place far better.
A memorial service in Chicago will be planned at a later date.
In lieu of flowers the family requests that donations in memory of Bob be made to the following organizations:
• Life Teen Missions – http://lifeteen.com/
Please make checks payable to Life Teen Missions. Send checks to:
LifeTeen, Inc.
13416 Olive Blvd.
Chesterfield, MO 63017
Attn: Jon Givens
• Knights of Columbus
Please make checks payable to Knights of Columbus Council #13111. Send checks to:
St. Thomas More Church
51 Marketplace
Irvine, CA 92602
Attn: Steve Luchetta
• Brotherhood of Blessed Gerard – bbg.org.za