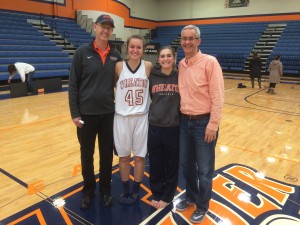 I'm very pleased to announce that Jim "Breeze" Bremhorst '81 has agreed to be our next House Corporation President. His position has been unanimously approved by the Board of Trustees.
Jim will be taking over for Greg Scott '76 who has served us so well over the last five years. Thanks to Greg for his dedication to this role and many hours of service to our fraternity! Greg will continue to support our chapter in his new role as President of Arete Management who we have contracted to provide on-site facilities management services.
Jim grew up in Glenwood and attended Homewood Flossmoor High School where he was on the basketball team. He graduated from Illinois in 1981 with a B.A. in Finance and a M.S. in Finance in 1983.
Jim started working with Arthur Andersen in their Management Information Consulting Division in January 1983. This division was renamed Andersen Consulting in 1989 and became Accenture in 2001. He was a partner from 1999 until he retired in 2010. Jim specialized in the Utilities Industry and spent a lot of time on large systems projects including enterprise financial systems and merger integrations.
Jim is married and lives in Springfield. He has two daughters and a son (an Illini). In retirement, he spends most of his time coaching b-ball, volunteering in the school district, taking care of his dad, exercising, visiting his kids, running his church's finances and golfing.
Jim loved his days at 1101 and regularly stays in touch with many of his pledge brothers and others from his era. (Picture is of Jim on left with Stu Meacham '78 and their daughters Mel and Chantel who were team mates on the Wheaton College women's basketball team) Now, he's excited to bring his significant leadership and project management skills to his role as the Thomas Arkle Clark Memorial House Corporation President.
Breeze will need your help as there is much to be done over the next few years so don't be surprised if he gives you a ring.
L&R,
Jack Klues
Gamma Zeta '77
Chairman, Board of Trustees