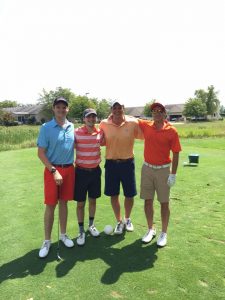 Hello Gamma Zetas,
Matt Massucci '96 has asked me to forward the following about the upcoming 17th Annual RG Swedo Golf Outing.  This is an awesome event to recognize and remember Gamma Zeta Greg Swedo '96 who was tragically killed in a hit and run accident in 2000.  Money raised goes to scholarships  from Greg's high school, Fremd to attend the University of Illinois.  The top ATO Foursome at the event each year is recognized on the Heldman Trophy which is displayed at the chapter house.
Mark your calendars now and register for this year's event!
17th Annual RGS Golf Outing
Saturday, August 25th
Carillon Links
Plainfield, IL
Registration and donation link – https://gregswedo.nationbuilder.com/golf_outing_2018
I've heard rumors that a very confident foursome of GZ's from Springfield plan to raid the event this year and take away the hardware.  Get your group together today and give them a run for their money!
Contact Matt Massucci directly at matt@hirewell.com if you have any questions.
Thanks!!
Dane
Dane Luhrsen
Gamma Zeta '77
Director of Alumni Relations