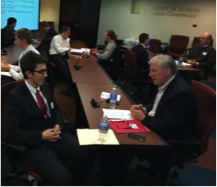 On Wednesday, January 15, ATO alumni sponsored a Mock Interview Day at the Illini Center in Chicago to give ATO undergrads an opportunity to practice their interviewing skills. Sixteen undergrads put on their best suits and ties, shined their shoes and each got an opportunity to meet and interview with two alumni. Each meeting consisted of a thirty minute interview followed by a fifteen minute feedback session.
All reported that they enjoyed the session, feel much more confident as they approach real interviews and would like to do it again. Some of the undergrad reported learnings include:
"I learned ways to translate resume credentials into talking points."
"I learned how to restructure some of my phrasing in my answers to certain questions. I also learned more about the advertising industry and what the ideal person working in an agency is like."
"I learned that body language is important."
" I learned that Philanthropy is always a plus – always talk about your involvement."
Thanks to the following alumni who volunteered their time to serve as interviewers:
John Aymond 1980
Chris Bonds 2008
Douglas Brashler 2005
William Brennan 1978
Timothy Derry 2003
Jeff Eversden 2005
Justin Femmer 2006
Trent Jackson 2004
Jack Klues 1977
Peter Korst 1976
Richard Korst 1978
Matthew Massucci 1996
Joseph Patrevito 2002
Dan Reidy 2001
Jeffrey Scolaro 2004
Gregory Scott 1976
Mark Slocum 2006
Congrats to the undergrads who participated? They did a great job.
Ali Bhujwala 2015
Kevin Breckenfelder 2014
Michael Chada 2015
Jake Daniels 2014
Mark Giarelli 2015
Joseph Grazioso 2016
Matt Harasim 2015
Max Heilman 2015
Paul Jaroslawski 2015
Alexander Karl 2015
Sam Less 2014
Rocco Marchiori 2015
Jack Polancich 2015
Michael Samawi 2015
Sam Selby 2017
Brett Williams 2015
Alumni also reported that they enjoyed the experience and plans are already in place to do this again next year.
Here's a link to an album of pictures from the event at our Facebook page – https://www.facebook.com/media/set/?set=a.201172373421969.1073741850.139580319581175&type=1&l=245b0d4ec0