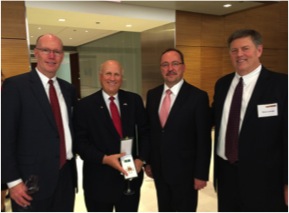 "…to have no narrower limits within which to work together for the elevation of man than the outlines of the world…"
We all know those words from the ATO Creed but few exemplify them better than Robert C. Knuepfer, Jr. 1974, Dennison. Normally, we reserve reporting here for Gamma Zeta News and Rob wasn't a Gamma Zeta. But, his grandfather, Russell S White 1917 was GZ Worthy Master in 1916/17 and his uncles, Robert L. White 1946 and David N. White 1954 are Gamma Zetas. Also, Rob served as Gamma Zeta Chapter Consultant and went on to be National Worthy Grand Chief… so, we'll proudly claim him.
On Friday, November 22 at a reception in Chicago, Rob was honored with the Order of Merit of Hungary by Zswolt Nemeth, Deputy Foreign Minister. Rob was recognized for his years of service to Hungary and in large part for his efforts in helping Hungary transition from socialism to capitalism. Just to put Rob's influence in perspective, he also oversaw the opening of Baker & McKenzie offices in Moscow, St. Petersburg, Kiev, Tashkent, Baku, Warsaw and Prague, and helped bring high-profile U.S. companies to Hungary, including General Motors, Ford, General Electric and Pepsi.
Here's a link to an article in the Chicago Daily Law Bulletin which provides a great deal more detail about Rob – "A knight-like recognition" – http://www.chicagolawbulletin.com/Articles/2013/12/02/Amicus-Curious-Knuepfer-12-2-13.aspx
Bob Simonds (Gamma Zeta '46) was invited to represent ATO at the reception honoring Rob. Bob was unable to attend so he invited John Aymond '80 and Dane Luhrsen '77 to stand in for him and they were honored to represent ATO in support of Rob at the reception.