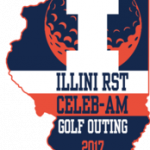 Peter Korst '76 asked me to share the following about another great golf opportunity for Illini fans – FRIDAY – AUGUST 11th, 2017 – DEERFIELD GOLF CLUB
Dane, I am a member of the University Illinois Department of Recreation, Sports and Tourism Alumni Advisory Board. There is a golf outing fund raiser that supports scholarships for students in that department that I think some of guys may be interested in considering. The outing features Illini sports greats as the main attraction with whom you golf and interact. It is a pretty impressive lineup. I am asking if you might send this notification to the distribution list.
Here is the link to the event site where people can learn more about the Illini celebs who will be there, how they can sign up to participate and opportunities to sponsor if they are interested.