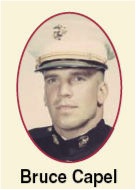 Last week on November 11, our country honored our servicemen on Veteran's Day. This past Saturday, the Illini football team wore helmets honoring the ten Illini football players who died in the service with special helmets displaying ten stars, one for each of these men. One of those stars recognized Gamma Zeta Bruce Capel '65 who was killed in action in Viet Nam.
Gamma Zeta has a proud tradition of service to our country.  During WWI and WWII, the house was closed down for a time due to so many of our brothers leaving for military duty.   Many more served during Viet Nam and though today.  Three Gamma Zetas that I'm aware of have risen to the very top ranks of our services – Major General Edward B. Giller 1940 – Air Force, Brigadier General Frank E. Blazey Jr. 1946 – Army and Rear Admiral William D. Masters, Jr. 1965 – Navy.  However, over time, I'd like to record and recognize all of our Veterans in some way so please send  me the information.
To all Gamma Zeta Veterans – THANK YOU FOR YOUR SERVICE!!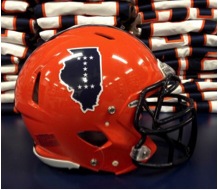 WWI
83 Gamma Zeta's enlisted in active service in WWI.
Benjamin H. Bloebaum 1913 lost his life.  (His name is memorialized engraved on one of the pillars at Memorial Stadium)
WWII
Jim Griffin – Distinguished Flying Cross for completing a number of daylight bombing raids in Nazi-occupied Europe
Major Walter T. Morey 1940 – served for three years with the 36th Field Artillery in North Africa, Italy and France. He was awarded the Bronze Star, Legion of Merit and three French Croix de Guerre. Later, he served in the Korean War as a battalion commander until 1951.
Richard M. White 1944
At least four ATOs were held as prisoners of war in Germany between 1943 and 1945
Records indicate that at least ten Gamma Zeta ATOs were killed in action during the course of the war
Two Gamma Zeta alumni, Captain Robert Thomas '15 and Lt. David S. Terry, were killed in flight training exercises in the United States
Bill Pulverman 1942 killed in action in Holland on September 21
Viet Nam
Killed in action
Wayne Edward Pearson 1961
Carson G. Culleton 1962
Bruce Capel 1965
Active
Brad T. Gwillim 1996 – JAG Attorney
Michael J. Tarpey 1993 – US Army Corps of Engineers
Retired
Major General Edward B. Giller 1940 – Air Force
Brigadier General Frank E. Blazey Jr. 1946 – Army
Captain Donald J. Snodgrass 1963 – Navy
Rear Admiral William D. Masters, Jr. 1965 – Navy
Brian A. Rawers 1978 – Captain, United States Marine Corps, JAG
Col James Cavoto USAF 1980