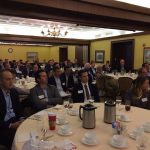 Hello Gamma Zetas,
Private equity firms raised nearly $300 billion in new funds during 2015 and they did it again in 2016.  That means that there are huge opportunities in this space.  Whether you are directly involved in a Private Equity firm, in a financial services, accounting or consulting firm that works with PE, own or are an executive in a mid market business or division of a large business that may have an interest in PE investment or otherwise have a career interest somewhere in this world you should be interested.
We have Gamma Zetas serving in leadership roles throughout this network.   We've formed an esteemed panel to discuss and share how we can all help each other succeed and prosper by taking advantage of this Private Equity opportunity at our next ATO Gamma Zeta Networking lunch on March 3.  Here's the panel:
Patrick Jensen '98 – Partner, Prairie Capital
Jeff Piper '00 – Managing Director, Svoboda Capital
Dan Barry '84 – Senior Managing Director, Antares Capital
Dave Lundstedt '75 – former CEO, Armored AutoGroup Inc. (been CEO of at least 3 different PE portfolio companies)
Moderator
Mike Barrett '80 – PE Practice Director, Patina Solutions (30 years in PE with Mesirow)
If you fall into one of those groups mentioned above with a very specific interest in Private Equity or… you are just interested in reconnecting with old ATO friends and meeting new ones, please join us for the ATO Gamma Zeta Private Equity Networking Lunch:
Date:           Friday, March 3
Time:           11:30 AM – 1:00 PM
Location:      University Club – 76 E Monroe St., Chicago
Cost:           $50
Registration: Click Here to Register  (Note… register early, space is limited!) Guests are welcome! See list of guys who have registered as of 2/20 below.
Looking forward to seeing everyone on March 3!!
Dane
Dane Luhrsen
Gamma Zeta '77
Director of Alumni Relations
Editor Gamma Zeta News
daneluhrsen@gmail.com
630-638-8572
| | | | | |
| --- | --- | --- | --- | --- |
| First Name | Last Name | Title | Company | Grad Yr |
| Ron | Bess | CEO | Myelin Communications | 1968 |
| Robert | Alley | Chairman | IAC at ERS Texas/IAC | 1970 |
| Jeff | McGill | Owner | JCM Retirement Plans Plus | 1973 |
| Bill | Ganey | VP Sales | Just Play Products | 1975 |
| Dave | Lundstedt | Former CEO | Armored AutoGroup Inc. | 1975 |
| Mike | Tolzien | Midwest Region Manager | Derbigum Americas | 1975 |
| Donald | Armstrong | Director of Estate and Financial Planning | Northwestern Mutual | 1977 |
| Patrick | Barron | Chair | Peer Group Advisory Board Facilitator | Confidant | Vistage Worldwide, Inc. | 1977 |
| William | Barry | EVP | Draper and Kramer | 1977 |
| Jack | klues | Former CEO | VivaKi | 1977 |
| Dane | Luhrsen | Managing Director | Patina Solutions | 1977 |
| William | Brennan | CEO | Forsythe Technologies | 1978 |
| James T | Hemphill | Entrepreneur | | 1979 |
| John | Aymond | Director Institutional Sales | RBC Capital Markets | 1980 |
| Michael | Barrett | Private Equity Practice Director | Patina Solutions | 1980 |
| John | Cochrane | Senior Vice President | UBS Wealth Management | 1982 |
| Larry | Eppley | Managing Partner, Chicago | Sheppard Mullin Richter & Hampton LLP | 1982 |
| Greg | Ewert | Physician | Michigan Avenue Internists | 1982 |
| Shuler | Griffin | Minister | Fountain Anglican Church | 1982 |
| Bill | Rolander | Executive Managing Director | Newmark Grubb Knight Frank | 1983 |
| Wynn | Smiley | CEO | ATO National | 1983 |
| Dan | Barry | Sr. Managing Director | Antares Capital LP | 1984 |
| Mike | Stibich | Partner | Deloitte | 1985 |
| Norm | Bilsbury | President | Topline Consulting & Training, Inc. | 1992 |
| Alex | Bagne | President | ICS Tax, LLC | 1994 |
| Thomas | Bentle | Senior Analyst | Jones Lang LaSalle Valuation & Advisory | 1995 |
| Mark | Liyeos | Accounting Supervisor | Simpson Estates | 1997 |
| Patrick | Jensen | Managing Director | Prairie Capital | 1998 |
| Brian | Ruff | Realtor | D'Aprile Properties | 1998 |
| Terry | Turman | CEO | ATO Foundation | 1998 |
| John | Frank | President & CEO |  Third Road Management LLC | 2000 |
| Jeffrey S | Piper | Managing Director | Svoboda Capital Partners LLC | 2000 |
| Scott | Schneider | Senior Research Analyst | Great Lakes Advisors | 2001 |
| Ryan | Anthony | Principal | LaSalle Capital | 2002 |
| Joseph | Patrevito | Director of Business Development at | Digital Bridge Solutions | 2002 |
| Tim | Derry | Managing Director – Head of Upper Midwest & Canadian Private Equity Originations | PNC Business Credit | 2003 |
| Chris | Conversa | Senior Vice President, Commercial Banking | MB Financial Bank | 2004 |
| Phillip | Coover | Principal/Attorney |  Schenk Annes Tepper Campbell Ltd. | 2004 |
| Michael | Piper | CEO | ICS Tax, LLC | 2004 |
| Joe | Wolsfeld | Senior Vice President | MB Financial Bank | 2004 |
| Doug | Brashler | Commercial Banking | Huntington National Bank | 2005 |
| Dan | Kostelny | Director of Industrial Property | InSite Real Estate LLC | 2005 |
| Robert | Erfort | Director | KPMG Advisory | 2006 |
| Michael Patrick | Keeley | Associate | Kirkland & Ellis LLP | 2007 |
| Tim | Lackie | Vice President | Allegiance Capital Corporation | 2007 |
| Dan | Lundstedt | Franchise Owner | Sir Grout | 2007 |
| John | Dudek | Associate | JP Morgan | 2008 |
| Jim | Lyznicki | Transactions Advisory | Ernst & Young | 2008 |
| Brett | Moore | Partner | Residential Dynamics Group LLC | 2008 |
| Patrick | Riggio | Senior Associate | Lake Capital | 2008 |
| Jeff | Vranek | Vice President | Prairie Capital | 2008 |
| Ted | Dimiropoulos | Manager |  KPMG Valuation Services | 2009 |
| Andrew | Nicholas | Equity Research Associate | William Blair & Company | 2010 |
| Blake | Overlock | Business Performance Advisor | Insperity | 2010 |
| Matt | Dixon | Associate | Latham & Watkins | 2011 |
| Brett | Newman | Associate | Kirkland & Ellis LLP | 2011 |
| Jake | Bailey | Investment Banking Analyst | J.P. Morgan | 2012 |
| Jack | Hickey | Financial Advisor | Merrill Lynch Wealth Management | 2012 |
| Matt | O'Neil | New Projects Manager | Parker Plastics, Inc. | 2012 |
| Dan | Passarella | Consultant | Deloitte Consulting LLP | 2012 |
| Paul | Garcia | Senior Financial Analyst | Baker Tilly | 2013 |
| Steven | Ogdon | Senior Financial Analyst | Hill-Rom | 2013 |
| Raymond | Tiernan | Analyst | Valuation & Financial Opinions | Stout Risius Ross | 2013 |
| Lenny | Allegretti | Consultant – Corporate Finance/Transaction Services | FTI Consulting | 2014 |
| Thomas | Heinz | Asset Management Assurance Staff | EY | 2014 |
| Sam | Less | National Real Estate Audit Associate | RSM US LLP | 2014 |
| Chad | Lieber | Associate, National Retail Group | Marcus & Millichap | 2014 |
| Lexa | Pezzati | Deal Advisory Associate | KPMG US | 2014 |
| Kevin | Breckenfelder | Analyst | BMO Capital Markets | 2015 |
| Michael | Chada | Security & Infrastructure Consultant | West Monroe Partners | 2015 |
| Mark | Giarelli | Analyst, Real Estate Advisory Group |  Duff & Phelps | 2015 |
| Alex | Schwartz | Consultant in Transaction Services | FTI Consulting | 2015 |
| Spencer | Stiltz | Investment Analyst | Aon Hewitt Investment Consulting | 2015 |
| Joe | Grazioso | Healthcare Analyst – Financial Planning | Strata Decision Technology | 2016 |
| William | Hanson | Analyst | Duff & Phelps | 2016 |
| James | Lawlor | M&A Transaction Services Consultant | Deloitte | 2016 |
| Benedict | Volk | Investment Banking Analyst |  Lazard | 2016 |
| Matt | Kovatchis | Undergrad | ATO | 2017 |
| Matt | Stemper | Undergrad Treasurer | ATO | 2018 |
| Will | Walsh | Undergrad | ATO | 2018 |
| Quinn | Gaughn | Undergrad Philanthropy Chair | ATO | 2019 |
| Dan | Reinke | Undergrad Worthy Master | ATO | 2019 |
| Tim | Crenshaw | | Simpson Estates Inc | |
| Reuben | Donnelley | | Simpson Estates Inc | |
| Jon | Mellin | | Simpson Estates Inc | |