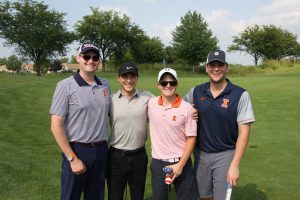 Congrats to Billy Hanson '16, Sal Fratto '16, Alex Karl '15, and Jimmy Kowalczyk '16 – for finishing 3rd at the 17th RG Swedo '96 Golf Outing last weekend. With the lowest score of the 12 ATO teams, they are the winners of the 2018 Heldman '98 Trophy. Thanks to Matt Massucci '96 for coordinating this great event which raised just under $7k for scholarships – putting the total raised at nearly $260k since it started 17 years ago!
There were over 30 ATO Alumni that played, ranging from 1981s to 2012s.
John Bucklar, Matt Massucci, John Barrientes, Steve Currey, John Vlahavas, Jeff Chou, Mark Liyeos, Steve Spy, Nick Spy, Jon Spy, Pat Martin, Andrew McIntyre, Tim Cochran, Kevin Marston, Chris Bonds, Curt Richardson, Jim Lyznicki, Ed Traines, Billy Hanson, Sal Fratto, Alex Karl, Jimmy Kowalczyk, Jason Swedo, Jason Aguiar, Ted Dimiropolous, Joe Rossi,  Jeremy Aguiar, Jim Meister, Jon Upleger, Kevin Baum, Matt Starman, Barry Schmidt, Chris Ernst, Ryan Yagoda, and Francis Hollweck.