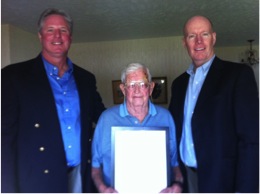 Jim Stansfield grew up in Urbana. He won the state championship in wrestling at Urbana High School. His father was a geology professor at the University. He graduated from high school in '37 and initiated at GZ in '38. He majored in ceramic engineering but after his junior year entered the army and served in the European theater. As a resident of Urbana he never lived in the house but spent many many fun times there.
His most memorable event was the time gymnast and fellow GZ Joe Giallombardo and friends with dates were on the roof(of the old house section of the house since the house was only about 7 yrs old) and he walked across the roof on his hands.
He served as a tank commander in the 9th Armored Division in the siege of Bastogne in the Battle of the Bulge. The lead commander was George Patton although he never met him. He ended up in Berlin at the end of his tour.
He returned from the war and finished his degree in '47. After graduation he took a job in the brick mills in Streator. But over time the competition from the prefab bricks shut down the mills. Then he began selling Vector sewer cleaning equipment to municipalities. .After a few years of sales he decided he should buy some equipment and provide the service himself. And the rest is history.
He had twin boys with his first marriage. In the late 60's as a single man he met this sweet school teacher, Kay, who was originally from southern Illinois. They now have 5 grandchildren between them.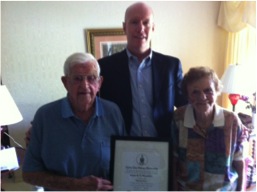 They have so much fun together. They have been traveling to Pompano Beach for over 40 years and still travel there each yea. In Streator he is a member of the Elks Club and just received his 65 yr membership award. Kay told us it was 64 yrs but Jim was quick to point out it is 65 years.
Dancing and Bridge are also two favorite past times. They still drive a car and play golf. But a few years ago decided the drive to Florida was too much and now they fly down there for the winter.
Jim is an avid Illini sports fan. Asked if he would like to see a football game he enthusiastically said yes. You might just see Kay and Jim this fall at the house or the football stadium cheering on his favorite team.