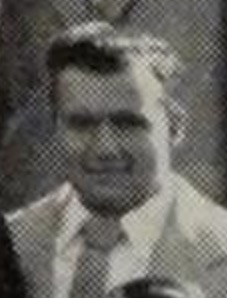 Here's a day-late Throwback Thursday post/picture with an interesting twist. I got an email last night, July 23, from Roy Burt '54 in response to our recent announcement of the memorial that we're creating to honor and remember our "Gold Star" brothers who made the ultimate sacrifice for our country. Roy mentioned that his pledge brother, Richard "Dick" C. O'Keefe left school before initiating to join the Army. He was unfortunately killed in action in North Korea. Dick wasn't on our list of "Gold Star" brothers. Roy asked that even though Dick didn't initiate, shouldn't we still honor and recognize him? After all, he did what he thought was the right thing to join the service. Our "committee" agreed unanimously and Dick is being added to our memorial. Here's the interesting twist… Dick was killed on July 23, 1953… exactly 62 years ago to the day. It's almost like he reached out to Roy and said… "I should be on that wall too" Yes Dick, you should and you will. Thank you for your service!!
Here are links to some additional info about Dick:
http://www.abmc.gov/search-korean-war-veterans-memorial-honor-roll/detail/Korea_23928#.VbISvHA8KrU
http://www.findagrave.com/cgi-bin/fg.cgi?page=gr&GRid=89617592
http://www.koreanwar.org/html/korean_war_project_remembrance.html
https://archive.org/stream/illio51univ#page/466/mode/1up. (3rd row far right)
Some more on "Dickey" from Ralph "Waldo" Peterson '54 …
Hi Dane,
Your email on Dickey O'Keefe brought back a ton of memories.
Dickey and I were both in the school of physical education along with Ron Ultes who was also on the 1950 Freshman football team.
Dick despite his size was a terrific high school athlete and attended Illinois on a football scholarship. Dick loved football and couldn't wait to go to practice. Ron on the other hand couldn't wait for practice to be over!  Ron dropped football for baseball and was the captain (and All Big 10) of the 1954 team. I am sure your Dad would remember him.
Back to O'Keefe – Dick did not make his grades to be initiated and when it became apparent to him he wasn't going to be playing much football for the Illini he transferred to the University of Kansas where he did get to play.
He was drafted into the Army in 1952 and was sent to Korea. What happened in Korea was tragic. Dick was in an artillery unit supporting the ROK (South Korea)infantry . The word was spreading that a truce was about to be signed. The ROK pulled out leaving Dick\'s unit fully exposed to an attack by the North Koreans. Dick was killed in that attack, July 23, 1953.  The truce was signed 4 days later on July 27, 1953.
That Fall all of the '54 pledge class went to the funeral in Wilmette, and then back to Urbana to play in an intramural football game.
You mentioned the Skull & Crescent pajama relay that we won in 1950. In the early '60's when I was the chapter advisor the brothers were cleaning the house and threw a bunch of old trophies away. I found our P.J. relay trophy among them, recovered it and still have it in my possession. Always good for a laugh when we get together!
Dick was a great guy, loved football, University of Illinois, and ATO. Unfortunately it didn\'t play out the way it should have.
Please pass the word on to anyone that is interested,
Waldo '54