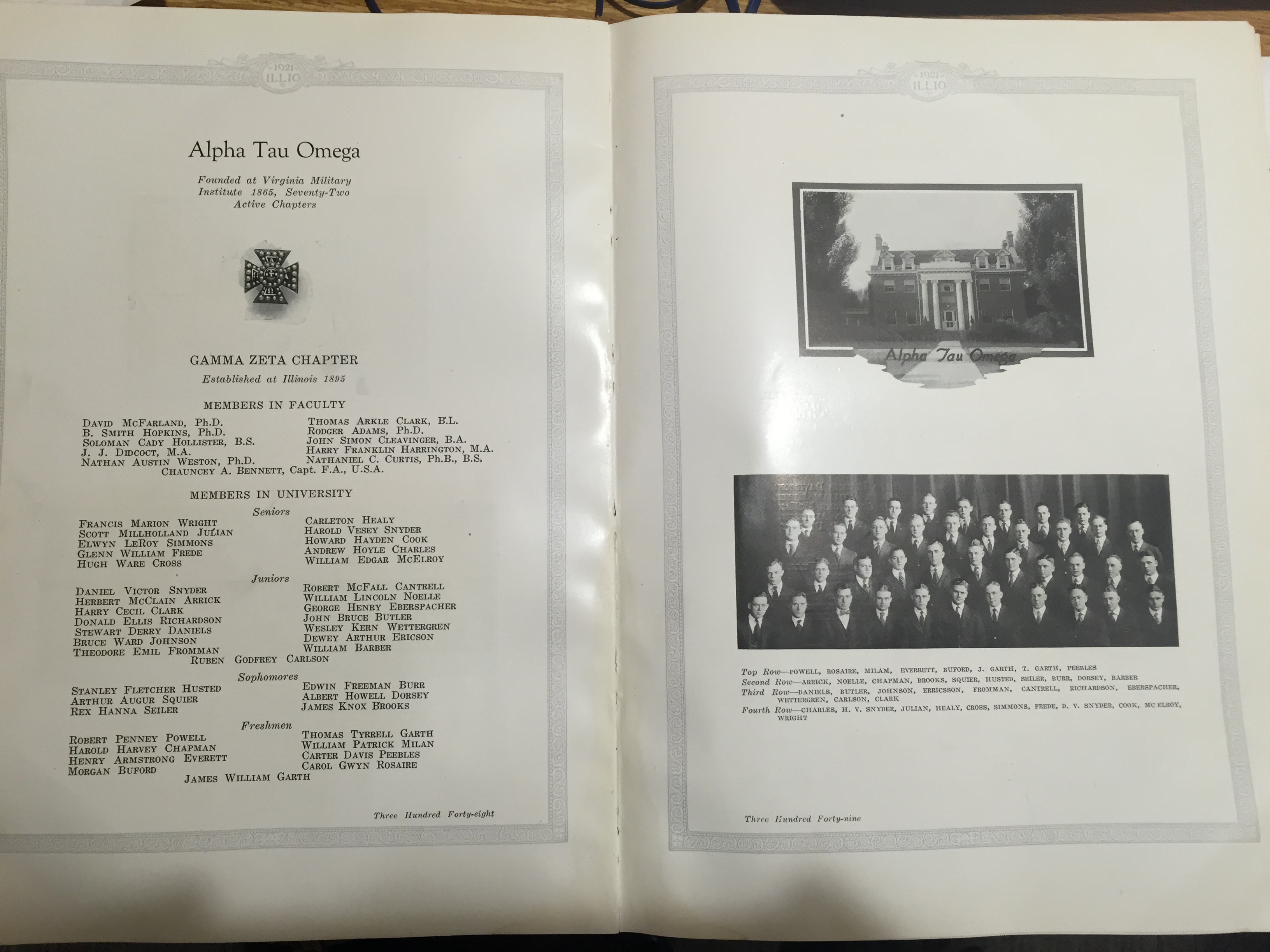 Throwback Thursday – Our undergrad Alumni Relations Chair, C.J. Donohue '16, was in the library yesterday and came across a 1921 Illio. Take a look at the list of names who were affiliated with the chapter that year.
Several faculty members including:
Thomas Arkle Clark – was our initiate #1 and recent Illinois Fraternity HOF selection.
Nathan A. Weston – was the first Dean of the College of Commerce and Business Administration, and an economics professor for nearly 30 years. He was a Charter member of Gamma Zeta and initiate #2. Weston Hall, which is part of the 6 Pack, was named after him.
Roger Adams – was an organic chemist and Head of the University of Illinois Department of Chemistry and Chemical Engineering from 1926 to 1954. Adams Laboratory on campus is named after him.
Undergrads at the time included:
Hugh Cross – went on to be Lieutenant Governor of the State of Illinois and was a candidate for Governor at one time.
E.L. Simmons – ran a construction company that built FAR and the Six Pack and many other buildings on campus. He co-led the fundraising campaign to build ATO National HQ in Chapaign (with another Gamma Zeta, Jack Powers) and was instrumental in the campaign to build the extension to the ATO house in 1959. The dining room of the chapter house is named after him.
Howard Cook – was also involved in the campaign to build the ATO extension. One of the wing rooms of the chapter house is named after him.
Stew Daniels – went on to a long career as Executive Secretary, and Worthy Grand Chief of ATO. The east living room of our chapter house is named after him and his son, also Stew, and also a Gamma Zeta.
Ruben Carlsen – was appointed by Thomas Arkle Clark who was Dean of Men at the time to lead the student committee charged with raising funds to build Memorial Stadium. His student committee raised over $700,000!!! Just unbelievable in 1920's dollars. His son John Carlson '50 told the story at one of our Chicago networking events last year.
Rex Seiler – was the grandfather of our current alumni scholarship committee chairman, Dave Seiler '77 and the father of John Seiler '54. Both Dave and John still live in Champaign.  Dave's son Cam Seiler is an ATO from Purdue…The only four generation group of ATOs that I know.
What an incredible time it must have been to be an ATO!!