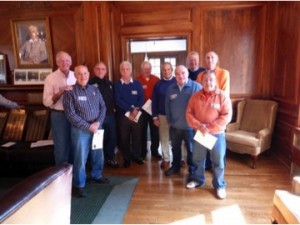 This past Homecoming, the Gamma Zeta Class of 1963 celebrated their 50th Reunion with a full slate of activities throughout the weekend. One of the highlights was a visit to the Chapter House for a ceremony where Jack Klues '77, current President of the Alumni Board of Trustees recognized them with Gold Certificates signifying their 50 years of membership in the Alpha Tau Omega Fraternity.
The '63's were a strong group who included many guys who left their mark on the University of Illinois campus. Tom Porter lettered in wrestling and later served as the Illini varsity wrestling coach, an assistant coach on the Illini football team and was a long time Illini Assistant Athletic Director. Bill Small was Captain and All American on the Illini Basketball team that inaugurated the Assembly Hall with the first two games in that building, both Illini victories on the path to a Big Ten Championship. Jeff Ferguson was also a member of that team. Ed Kral was the captain of the Illini men's swimming team. Don Snodgrass from this group served a term as the Gamma Zeta Worthy Master. Ralph Converse, who was on the Illini Baseball team and was an ATO Intramural star unfortunately passed away this past spring but was certainly with his brothers in spirit.
Note that these guys joined ATO just a couple of years after the new Jack Powers wing was added to the house in 1959. They were able to share stories about what the house was like with the brand new addition with those who joined the ceremony on Saturday morning. All had a great time.
From left to right: Ferguson, Kral, Roffey , Austin, O'Neill, Koontz, Alton (Cameron behind Alton), Porter (Small behind Porter)
Here are some updates on the Class of '63 shared by Dave Cameron. (THANKS DAVE!!)
Bill Alton- Software business marketer living in Laguna Niguel, CA
Van Austin- Advertising exec and former UCLA diving coach living in Troutdale, OR
Jim Buckman- Dentist and professor at UIC living in Flossmor, IL
Dave Cameron- Product line/planning manager, Mobil Oil, living in Great Falls, VA
Jeff Ferguson- High school coach and assistant principal now living in Davenport, FL
Steve Koontz- Corporate pilot now living in Eads, TN
Ed Kral- High school principal now living in Monticello, IL
Dick O'Neill- President, Prospect Bank living in Champaign, IL
Tom Porter- mentioned previously, now living in Mahomet, IL
Dave Roffey- Veterinarian, now a dairy farmer living in Lee, FL
Bill Small- VP Industry Labor Relations, Lauhoff Grain now living in Champaign, IL
Don Snodgrass- Captain, U.S. Navy now living in Metropolis, IL
Most are retired from the above positions except Dick O'Neill