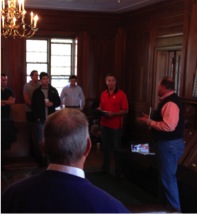 Gamma Zeta has 7 named scholarships with an endowment of nearly $500,000 and awards of nearly $20,000 each year. This represents the 2nd largest endowment of any ATO chapter in the country. Since the first of this group of scholarships were first awarded, Gamma Zeta members have received over $130,000. Each scholarship has slightly different criteria but are primarily based upon academics, community service and leadership.  The Heldman Scholarship also recognizes non-varsity athletes, Clausing and Timson are focused on accounting/finance/business majors.  The Sinnock Scholarship is targeted towards a Gamma Zeta going to graduate school.  One of the Simonds scholarships is designed to fund participation in the ATO summer Leadershape education program. 
This year, Dave Seiler '77, Managing Partner, Central Illinois for McGladrey agreed to Chair the scholarship selection committee and develop a formal process that we can also use in subsequent years to select the winners of the scholarships. He put together an incredible committee that included:
Frank Voris '87 – CEO of ViVaki
Michael Terry '94 – Orthopedic Surgeon at Northwestern and Head Team Physician for the Chicago Blackhawks
Bill Forsyth '83 – Partner and Founder, Frontier Partners, Inc. (former Chief Illini)
Patrick Jensen '98 – Managing Director, Prairie Capital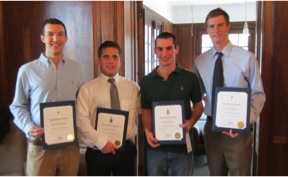 Note that Dr. Terry, Bill Forsyth and Patrick Jensen were all ATO Thomas Arkle Clark Award winners, (top ATO undergrad in country). Over 20 very qualified candidates applied for the scholarships this year.
Here are the scholarships, a little bit about the namesakes and this year's winners:
Matt Heldman Memorial Scholarship – Matt was a Gamma Zeta 1998 and a four year member and starter on the Illini Basketball team.  He was known for his hustle and grit and the Illini basketball team still awards "MATTO" points and a "MATTO" award for the player who best exhibits these traits.  The Gamma Zeta Heldman Scholarship recognizes someone who demonstrates leadership in academics, community service, leadership and leadership in non-varsity athletics (Club or intramural).  This year's winner is Alex Schwartz, Accountancy – 3.22
Frederick C. Philbrick Memorial Scholarship – Frederick C. Philbrick was initiated into Gamma Zeta in 1911 and he appears in the chapter roster in the Illio yearbook that year.  However, he doesn't appear in the yearbook in any subsequent year.  That must have been one great year.  Sixty years later, in 1975, William Krahling, the Interim Executive Director of ATO National at the time, got a letter from Fred's niece.  The letter explained that Fred had passed away in 1972 and his wife had died in 1974.  They had left a significant bequest to the ATO Foundation to be used for scholarships for Gamma Zeta undergrads.  This gift now represents an endowment of over $70,000.  This year's winner is Andrew O'Neil – Math and Statistics – 3.42
Robert J. Simonds Memorial Scholarship – Bob Simonds was a Gamma Zeta '46.  He has the unique distinction of being Worthy Master of three different ATO Chapters, Illinois, Ohio Wesleyan and Penn.  He is also one of four Gamma Zetas who served as Worthy Grand Chief of ATO National.  Though Bob is stricken with ALS, he is still alive and kicking and recently served as Family Chair for the recent ALS Walk4Life in Chicago.  His team has raised over $60,000 for ALS research with significant support from Gamma Zeta undergrads who raised over $11,000 and Gamma Zeta alumni who raised over $12,000.  This year's winners are Robert Kleinhans – General Engineering – 3.02 and John Brosnan – Civil Engineering – 3.36
Richard V. Clausing Memorial Scholarship – Rich was Gamma Zeta '77.  He was great guy, a great ATO, great friend and had a very successful business career with Arthur Andersen in Chicago. Famous Barr, Chairman of Lord & Taylor and CFO of Wickes Furniture.  This year's winner is – Samuel Less – Accountancy – 3.70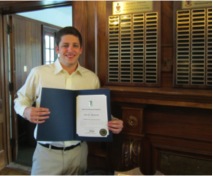 David S. Timson Memorial Scholarship – Dave was a Gamma Zeta '75.  Dave pursued a career in the investment finance field, serving a variety of financial and planning positions including director of Venture Management and analysis for Greyhound Capital Corporation, executive director/partner in the Private Markets Group of Brinson Partners, Inc. and Greeley & Hansen. He was responsible for the Birds Eye, Esselte, Hertz, Kappa Smufit and Leiner investments. David was instrumental in investing in companies such as Microchip Technology, Morningstar Foods, SalesLogic and Scientific Protein Labs to mention a few.  This year's winners are Jimmy Lawlor – Accountancy -3.29, Jack Polancich – Accountancy – 3.23 and Brett Williams – Accountancy -3.57
Thanks to Dave and his committee for their time and effort in selecting a very deserving group and congratulations to this year's winners!!