On Wednesday evening, January 21 at the invitation of Gamma Zeta Board of Trustees Chairman Jack Klues '77, Chancellor Phyllis Wise visited the Thomas Arkle Clark Memorial Chapter House for dinner.  The visit went great! The house looked it's best in the last three years and our guys put on a great showing.
Norm Bilsbury '92 was there early in the day working with the undergrads making sure everything was picked up inside and out.
Greg Scott '76, House Corporation President, Joe Grazioso '16, House Manager and Jimmy Kowalczyk '16, Worthy Master did a fantastic job making sure that the inside of the house was detailed, all of the mess from last weekend's move in was removed and getting some last minute small repairs made.
Thanks to Dave Krug '95, the very impressive Heldman Trophy has been restored and returned to it's rightful place at the base of the stairs in our front hallway.  It looks fantastic.
Jeff McGill '73 stepped up big time and had everything organized in the dining room… extra tables including comfortable seating for 100, table cloths and flowers on the tables. He also arranged for Illinois Doctoral piano student and Krannert Award winning Sam Gingher to be playing when Chancellor Wise arrived.
The undergrads were all on time, dressed in suits and ties and were very respectful. Jimmy, Joe and others were working on last minute details pretty much all day.
Jack gave Chancellor Wise a quick tour of the common areas before dinner.  We told her a little history of our 113 year old newly restored Bechstein Grand piano and she was clearly impressed to find such a beautiful antique inside a fraternity and such a nice house.
http://youtu.be/WvgI4OOKQOs
All of the undergrads went into the dining room while Jack led the tour. When they entered the dining room, Jack announced… "Chancellor Wise… these are the Men of Alpha Tau Omega".  Everyone, all dressed in their suits and ties stood and clapped for the Chancellor. It was very impressive.
http://youtu.be/LvpyVFn-2kk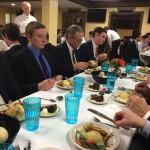 The food and setting was excellent. Jeff McGill had arranged for the U of I Triathalon Club to act as servers and they did a great job. So we actually had a good old fashioned sit down meal. Chef Colin and his team from Upper Crust out did themselves with a beautiful setting and excellent dinner.
http://youtu.be/cGVbQql7Chs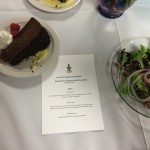 Greg Scott had even prepared menus/programs which were laid out at each place setting… very classy.
After dinner, everyone retired to our beautiful East Living room under the watch of the portraits of Thomas Arkle Clark and Robert Simonds.  Dane Luhrsen '77, Director of Alumni relations reviewed a brief slide show history of Gamma Zeta and Jimmy provided an update on the current undergraduate chapter.  Here's a link to the slide show that Dane and Jimmy presented –   ATO Gamma Zeta Legends 1 20 15 (1)
Then Chancellor Wise spoke for a few minutes about her vision for the university. She told our undergrads what a great opportunity that they had with caring and supporting alumni and urged them to take full advantage.  She was very gracious, clearly enjoyed herself and was impressed with her visit.  Jack presented her with a gift of appreciation, a glass box with ATO engraved on it that was provided by Wynn Smiley, ATO National CEO (THANKS Wynn!!)  Then Jack and Chancellor Wise went on to the State Farm Center to cheer the Illini on to a big win over the Boilermakers.
Overall, the evening was a great success.  We should all be proud of our fraternity on a great showing.  The house looked great!  Special thanks to Jack for orchestrating the visit which we believe may be Chancellor Wise's first visit to a fraternity and to the entire team for pitching in to make it a memorable evening.
Here's a link to some additional pictures.