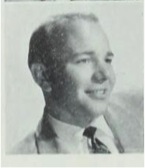 Robert Wiley Lavender, age 81, of Douglas, died Thursday, September 26, 2013, at Holland Hospital after a lengthy battle with lung-related issues.Robert was born on February 10, 1932, to parents, Earl and Sears Lavender of Christopher, IL. He served his country in the U.S. Army from 1951-1957. Following his service he attended the
University of Illinois
and graduated in 1954 with a degree in journalism. He was a member of the ATO fraternity. Robert was a partner at Grant/Jacoby, Inc., a Chicago-based advertising agency, focusing on business-to-business clients until he retired in 1995.
In 1980, Robert moved to the Douglas area, where he spent most of his summers. He was known fondly along the lakeshore as "The Muffin Man," because of his legendary blueberry muffins, which he baked most weekends. Besides cooking, he enjoyed traveling and reading. For many years, he volunteered his cooking skills at the Lincoln Park Community Shelter, which was supported by his church, Church of Our Saviour in Chicago. His children dedicated the Robert Wiley Lavender memorial kitchen in his honor four years ago.
Robert was a "subway alumni" of Notre Dame, never missing an opportunity to support his favorite football program. He is survived by his wife, Linda (Moy); three children, Robin (Datu Ramel) Lavender, Missy Lavender and Tim Lavender (Nancy Sonego); seven grandchildren, Elle, Clay, Greg, Wiley, Fallon, Caroline and David; seven nieces and nephews; and brothers-in-law and sisters-in-law, Ronald (Kathleen) Moy, Nora (Joe) Healy, and Donald (Susan) Moy.
A memorial service celebrating Robert' s life will be 11 a.m. Saturday, October 19, 2013, at All Saints Episcopal Church, 252 Grand St., Saugatuck, with Rev. Corwin Stoppel officiating. Burial will be in Riverside Cemetery.
Memorial gifts in Robert's honor may be sent to Lincoln Park Community Shelter (lpcsonline.org), Mission of Our Lady of the Angels (missionola.com), All Saints Episcopal Church or Notre Dame University. Please visitdykstrafuneralhome.com to sign an online registry or leave a memory.
Published in The Holland Sentinel on Oct. 3, 2013– See more at: http://www.legacy.com/obituaries/hollandsentinel/obituary.aspx?pid=167305567#sthash.ICc6WtlM.dpuf