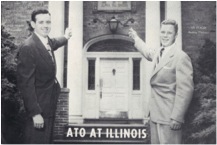 Dear Gamma Zeta alumni,
The Membership Committee is preparing for Spring Rush. The House very much seeks to have strong half class this year and the undergraduate Rush Team has done a great job assembling a list of potential recruits for the upcoming semester. However, we can still help them. I realize that we polled the network last summer, but please let me know if you have since learned about any freshmen (or sophomores) at the University of Illinois that could be potential recruits.
Mentally review the last three months of your life. One of your coworkers, colleagues, friends, acquaintances, or nemeses may have mentioned a child, brother, or nephew that is now attending the University of Illinois. If you are unsure whether such individual has joined a house or whether they would be a good fit for ATO, please still provide us with the name. We will figure out the rest. Please take a second to think about this, so that we can help our undergraduate brothers. Send recommendations to me at jscolaro@daleymohan.com .
Thank you,
Jeff Scolaro
Gamma Zeta '04.5
Board of Trustees Membership