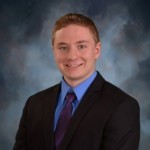 Joe Grazioso '16 worked as an intern this past summer at Belmont Bank whose CEO is Bill McCarty '79. Joe was referred to Bill by his ATO Mentor John Aymond '80. The following is an excerpt from a note that Joe's supervisor at the bank passed on about his experience.
"Joe has a tremendous work ethic, with great attention to detail, and routinely demonstrated a self-starter approach to his day-to-day responsibilities at the Bank.
He is a gentleman, someone who listened closely and took notes whenever a new concept was being presented to him.
The Gamma Zeta chapter of ATO is fortunate to have him as a member and I believe his commitment, dedication, and hard work sets a great example for the qualities that ATO promotes as "America's Leadership Fraternity", and will continue to contribute and prove beneficial to the long-term success of the House."
Great work Joe!!
We've got some great guys in the house. If you know of internship opportunities at your companies, please pass them on to Dan Passarella '13 (dpassarella16@gmail.com) and Jim McGuffin '96 (jmcguffin@2020-4.com) who are the alumni overseeing our Mentor and Internship matching programs respectively and they'll help match up appropriate candidates with the opportunites.