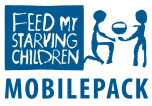 On Sunday, September 25th, the brothers of Alpha Tau Omega will be hosting a new signature event.  I'm excited to tell you about it and would like to invite you to participate with us.
Feed My Starving Children, a hunger relief organization, will be coming down to Champaign-Urbana to help us host a "MobilePak" event. During this event, over 100,000 meals will be packed for children in need. The event will be taking place at the Armory on campus, and involve nearly 500 people. The bulk of the volunteers are other Greek organizations on campus, along with other groups in the C-U area.
Our work on this event started over a year ago.  We raised most of the money which was needed to sponsor this event over Dad's and Mom's weekends during the 2015-2016 school year. With the help of other fraternities/sororities and your generous support, we will be able to fund the $22,000 event. Not only will this event be important in improving the name of Alpha Tau Omega, but also change the lives of so many kids.
If you would like to donate or participate, the link below will allow you to do so. There are times available all day Sunday the 25th that you can formally sign up to help through the link below or you can just stop by, pitch in or cheer us on any time you'd like.  Of course, donations directly to Feed My Starving Children will be welcomed as well and can also be done via the link below.  Thank you for your support.
http://volunteer.fmsc.org/Register/mobilepack/event.aspx?event=1609-211AU#.V5uEbWcUXIU
Best,
Quinn
Quinn Gaughan
Alpha Tau Omega External Philanthropy Chair
847-309-5039
qgone12@gmail.com