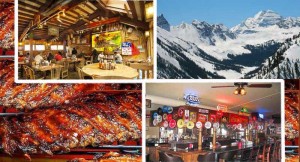 The pot for our "Last Tau Standing" Pool just got much sweeter! Paul Dioguardi '95, owner of Hickory House Ribs in Aspen and Parker, CO (http://www.hickoryhouseribs.com/index.html ) has volunteered to ship 10 racks of his delicious BBQ Ribs to the winner for their Super Bowl party. THANKS PAUL!!!
Here are the details again for entering… Joining the pool is an easy two step process.
First Step… you need to enter the pool online with our pool manager runyourpool.com. You'll sign into this site each week to make your pick and they'll automatically keep standings. Here are instructions for joining the pool entitled 'ATO Gamma Zeta'
1. Go to http://www.runyourpool.com/join.cfm
2. Enter the following information:
a. In the Pool ID box, enter the number 36007
b. In the Pool Password box, enter 'gammazeta' (without the single quotes)
3. Fill out the form information, including a personal username and password.
4. Make your picks, with the ability to change them right up until the weekly deadline.
Second step… make a $100 (or more) donation to the ATO Gamma Zeta Piano Restoration Fund at http://atoillinois.com/index.php/ways-to-give/piano-fund
You must enter AND make your donation before the first game starts on Thursday evening, September 4 to be eligible.